Theodor Otteni


1844 - 1911

FAMILY BACKGROUND
Theodor Otteni, the progenitor of many Otteni family members in the United States today, was born in Urloffen, Germany on 23 Dec 1844.
Theodor's ancestors on his Otteni side can be traced back to his Great Great Great Great Grandfather, Hans Georg Otteni, who was born in 1655.
| | |
| --- | --- |
| Parents -- | Berhard Otteni and Maria Rosina Wörner |
| Grand Mother -- | Bibiana Otteni |
| Great Grand Parents -- | Friedrich Otteni and Theresia Kieffer |
| Great Great Grand Parents -- | Johann Martin Otteni and Maria Eva Schmidt |
| Great Great Great Grand Parents -- | Mathias Otteni and Magdalena Denninger |
| Great Great Great Great Grand Parents -- | Hans Georg Otteni and Usrula Salinger |
According to the Baden, Germany Emigration Index, 1866-1911, Theodor, his wife, Therese, their son, Anton, his brother, Bernhard Otteni, and his sister, Louise Otteni, came to the United States on the same ship in 1868. The place of origin is listd as Baden (Germany) for all 5. Bernhard married Nanny Kahn Armbruster on 17 May 1875 in New York City, New York and there are no known children. Louise married Samuel Heubi on 1 May 1869 in Erie, Erie County, Pennsylvania. They are known to have 4 girls and 1 boy.
According to the actual ship passenger list of the S.S. Atalanta, the following passengers arrived in New York on 12 Oct 1868 and were listed as follows: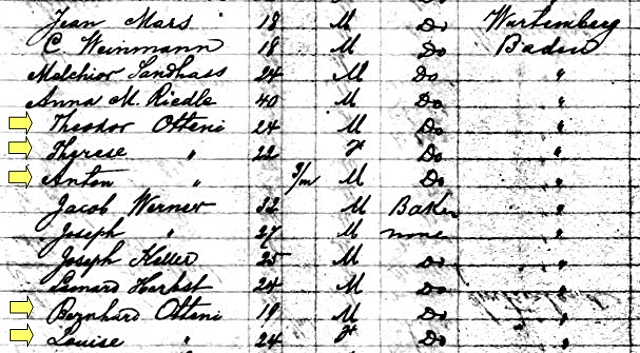 Together, Theodor and Theresia had 12 children, all born in Pennsylvania except for their first born, Anton 'Tony' Otteni. Their children included:
Anton 'Tony' Otteni, born 10 Jun 1868 in Urloffen, Germany; died 1915 in McKean Township, Erie County, PA.

William 'Bill' Otteni, born 12 Nov 1869.

Jacob 'Jake' Otteni, born 28 May 1871 in PA; died 1943. He married Anderson 1913.

Mary Otteni, born 1873 in PA; died 29 Dec 1944.

John J. Otteni, born 15 Feb 1875 in PA; died 27 Apr 1935 in Branchville, Erie County, PA.

Frank Otteni, born 23 Sep 1876; died 30 Nov 1930 in Erie, Erie County, PA.

Rose Otteni, born 07 Jul 1878; died 1942. She married Julius Metz 1908; born 1879; died 1963.

Frederick T. Otteni, born 11 Jan 1880 in Erie, Erie County, PA; died 31 May 1952 in Erie, Erie County, PA.

Phenomena 'Minnie' Otteni, born 14 Dec 1881; died 20 Sep 1956.

Joseph Otteni, born 27 Jul 1885; died 20 Feb 1960 in Erie, Erie County, PA.

Catherine Otteni, born 11 Feb 1887; died 1926.

Ed Otteni, born 05 Dec 1888 in Erie, Erie County, PA; died 14 Oct 1920 in Erie, Erie County, PA.
Theodor Otteni Family - circa 1895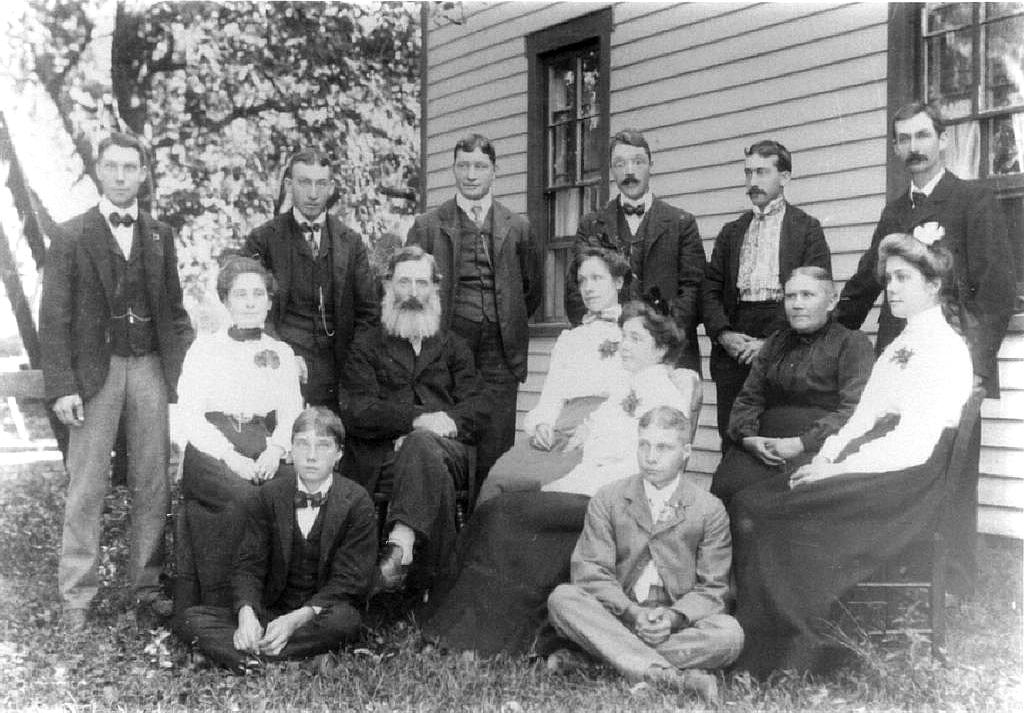 L-R Back Row: Fred, John, Bill, Jacob (Jake), Frank and Anton (Tony)
L-R Middle Row: Mary, Theodor (father), Rose, Theresia (mother), Kate, Philomina (Minnie)
L-R On Ground: Ed, Joe
Anton Otteni Family - circa 1912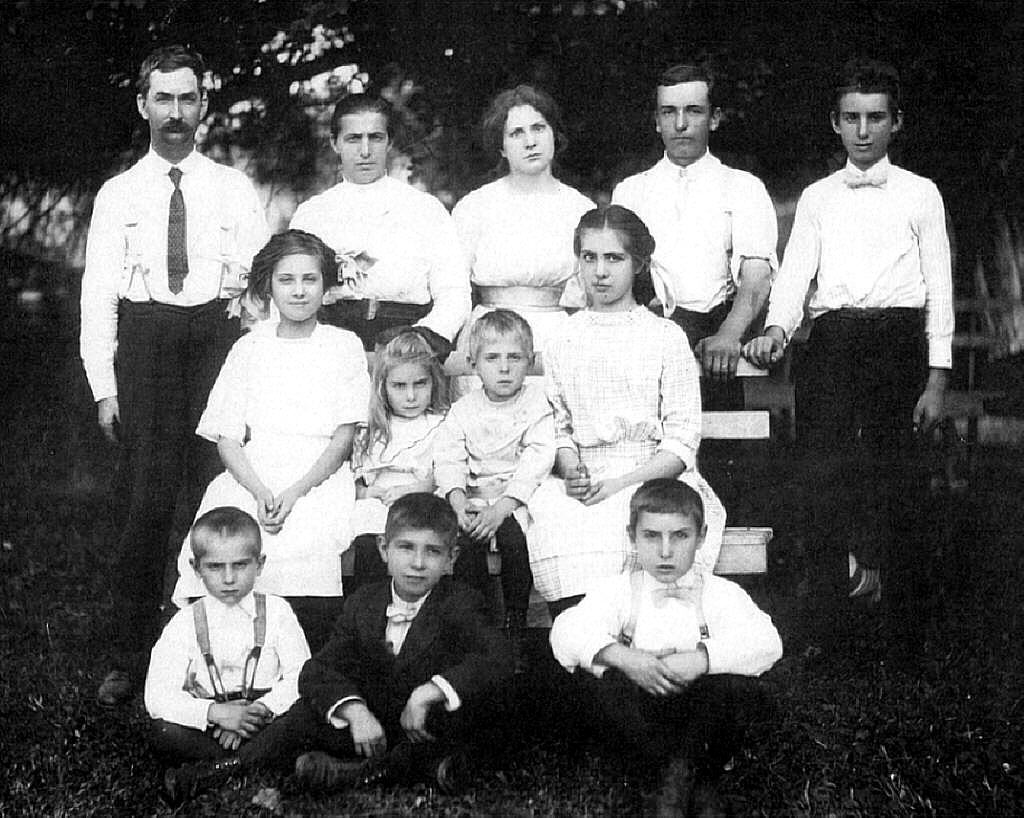 L-R Standing: Anton, Josephine, Anna, William and Frederick

L-R Sitting: Rose, Catherine, Anton Jr, Theresa

L-R On Ground: Charles, George, Clarence
Theodor Otteni died on 8 Nov 1911. According to his obituary, he was a farmer.
Erie Daily Times, Erie, Erie County, PA, 9 Nov 1911
Yesterday morning, Theodore Otteni, aged 66 years, one of the county's well-known residents, passed from this life, after an illness of same weeks duration, at the family residence, in McKean township on the Grub road. Deceased had been active about his farm up to some months ago, when his rugged constitution was attacked with disease. Everything that was possible to medical and the loving home care of his wife and children was of no avail. His end was a peaceful one.





Of his immediate family, he is survived by his wife, four daughters, Mrs. Michael Zuern, Mrs. Julius Metz, Mrs. Frank Alberstadt, Mrs. John Wurst; also eight sons, Anton, William, Jacob, John, Frank, Frederick, Joseph, Edward Otteni. One bother and one sister, residents of Germany, and 22 grandchildren, also survive his death.

Deceased was born in Germany, but has been a resident of this country over 43 years, and was one of the best known and most esteemed residents in the western section of this county. The funeral will take place from the late residence, in McKean Township, Saturday morning at 10 o'clock. Interment in Erie cemetery.
The descendants of Theodor Otteni spell their name OTTENI.
FAMILY INFORMATION
Click on the following link to view information on the descendants of Theodor Otteni to the present.
(Report with documentation also available)
Descendants of Theodor Otteni (1844-1911) - a privatized (dates & places of living people omitted) 6 Generation Descendant Book (PDF), starting with Theodor Otteni - 32 pages plus index


Leave message in Guest Book on the Home Page with questions or comments about this web site.
Last modified: October 19, 2022